Bi-Fold Doors Melton Mowbray, Leicestershire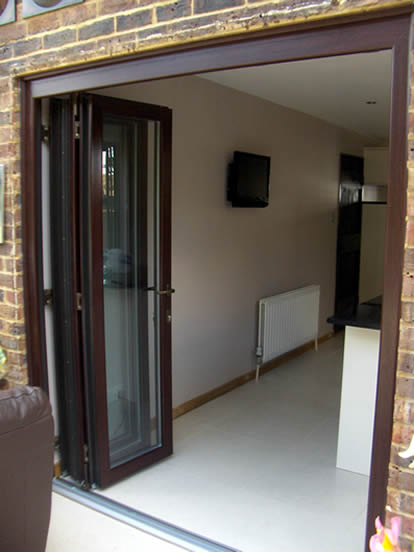 DGL supply and install bi-fold doors in the Melton Mowbray, Leicestershire area.
Our bi-fold doors come in a range of styles with are designed and built specifically for your house. All of our bi-fold doors are completely draught-free, weatherproof and totally secure.
Our bi-fold doors are incredibly easy to operate and add a contemporary addition to any home or commercial property.
DGL bi-folding doors are created from high grade materials and are designed to last while offering exceptional security and safety, impeccable weather shielding, and stunning great looks.
These functional doors make a beautiful and functional addition to patios, conservatories, and terraces.
Bi-fold door design
Sliding doors are unique in their design and use, but as with any door or window, security should be considered a main concern. Fortunately, with bi-folding doors Melton Mowbray, Leicestershire from DGL you can rest assured that they offer complete security from intruders and from the weather. Our high quality uPVC and wooden timber glazed folding doors are designed to keep everything out except the sun and you can even choose the style and design of door frame including colour and texture.
Opening and locking mechanisms
The mechanism of the bi folding door is also an important consideration. At DGL we pride ourselves on the manufacture of high quality items using the latest, innovative techniques to provide beautiful and functional home solutions in Melton Mowbray, Leicestershire.
Our products are designed, built, and guaranteed to last so you can enjoy a lifetime of stress free, trouble free use. We are one of the leading providers of bi folding doors to residents in Melton Mowbray, Leicestershire and property owners in the surrounding area. When opened fully, these doors are compact and enable easy access between your home and the outside world.
You might also be interested in our composite, french or patio doors.