Engineered Wooden Timber Windows Melton Mowbray, Leicestershire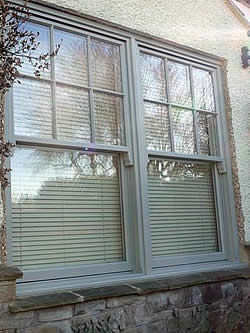 Most people would prefer to replace their windows with wooden products but ultimately choose not to due to the required levels of maintenance including regular painting and staining. However, the good news is that the latest modern high performance double glazed wooden timber windows are now built and manufactured using engineered knot free factory painted / stained timbers which if looked after correctly can last up to 10 years without requiring any redecoration.
What is Engineered Knot Free Factory Finished Wood & Timber?
Engineered knot free timber is where the timber window profile is made up of multiple layers of timber with each layer of grain running in opposite directions. These sections are then laminated together and this forms an incredibly strong and stable piece of timber and hence the resulting timber window will not twist or warp or move like a conventional wooden window.
Alongside this engineering process, the wood that is used has had all of its knots removed due to the fact that a knot is an obvious area of water penetration. Having constructed this very strong and resistant wood profile, the window is then factory painted or stained using the Gori Teknos water based micro porous with 4 factory applied coats that is the equivalent of up to 20 manual coats of paint or stain.
What Warranties Can I Expect and Where Has The Timber Come From?
Using modern engineered wooden timber windows and doors, typical warranties are as follows:
30 Year Warranty Protection Against Rot & Fungal Penetration
10 Year Warranty Protection Against Defects in the paint or stain finish
10 Year Warranty Protection Against the Double Glazed Sealed Units breaking down
10 Year Warranty Protection Against the Ironmongery
10 Year Warranty Protection Against Manufacturing Failure
All of our engineered wooden timber windows use 100% FSC Pure timber & wood which has been sustainably sourced from the finest slow grown European forests
What Products and Finishes Are Available?
The good news is that alongside the incredible levels of warranty and performance, there is a full range of products and finishes as follows:
Choice of engineered knot free FSC pure slow grown Redwood, Hardwood and Oak
Factory painted or stained to any RAL, BS, Farrow & Ball or other designer paint finishes
Double Glazed, Triple Glazed and Single Glazed to suit all thermal or planning requirements
Double and Triple glazed sealed units feature the use of Low E thermal glass, argon or krypton gas filling and warm edge technology to produce very low thermal U values and A rated energy performance
Traditional Range featuring exterior putty line and internal ovolo frame profiles to match the traditional look of your original windows
Contemporary Range featuring external pencil round and internal square profiles for the modern sleek look
Heritage Range which utilises slimline and single glazing which allows for these modern performing windows to be approved within conservation and listed buildings
Full range of flush casements, storm casements, sliding sash using both cords and weights and modern spiral balances, tilt urn and many many more
Full range of Georgian and leaded glazing to match all types of required window finish
Wide range of handles from the minimalist look modern casement window handle to old style traditional monkey tail and peg stay and many more