Composite Doors Melton Mowbray, Leicestershire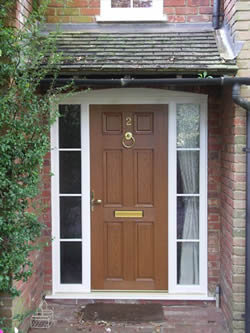 The Duo is designed with meticulous attention to every detail and finished to the highest possible standard.
Your front door is a symbol of your home, your family and your life. It's as individual as you are. It says a lot about you. Which is why it's so important that when you choose a new door, it has to be exactly right. Not just nearly right. After all, it's going to be with you for years to come. So it's something you're going to want to cherish. To adore.
It's going to keep you, your family and possessions safe and sound. It's going to keep out the cold and wet, yet keep in the warmth. It's going to be as good looking in 10 years time as it is on the day it's installed. Take your time in making the right decision and make certain it's one that you don't regret. Choose a Duo Composite Door and get ready to adore your door from the moment it arrives.
Benefits of our Composite Door range
All Composite Doors are fitted with an ultra-secure multipoint locking system
Every Composite Duo Door is double rebated as standard to retain heat and lower your energy bills
The doors achieve PAS23 and PAS24, the latest and most stringent BSI security and weather performance standards
Our GRP 'through colour' doors are available in a choice of 8 colour finishes: White, Dark Blue, Green, Burgundy, Red, Beck Brown, Antique Mahogany and Golden Oak
The DuoGuard Composite Door's unique double rebate and 12 locking points combine to provide unrivalled protection against flooding (reduces water ingress by 99.5%) and break in